Life is 10% what happens to us & 90% how we react to it." D. P. K.
Total Pageviews Pageviews all time history 13,800
'Beast Of Tenby,' Mysterious Creature, Found On English Beach; Experts Weigh In (PHOTO)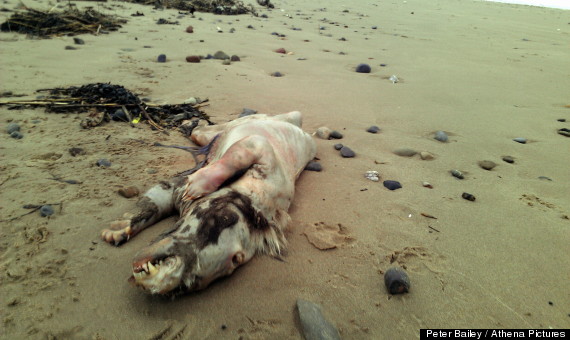 Login with Facebook to see what your friends are reading
Enable Social Reading
i
'Beast Of Tenby,' Mysterious Creature, Found On English Beach; Experts Weigh In (PHOTO)
Posted: 02/28/2013 1:26 pm EST
Share on Google+
Beast Of Tenby Mystery Creature
167
20
11
200
Get Green Alerts:
Sign Up
Follow:
Animals In The News, Beast Of Tenby, Monster Found On Beach, Mysterious Beast Of Tenby, Mysterious Creature, Brooklyn Bridge Monster, Montauk Monster, Mysterious Animals, Weird News, Green News
Seriously, what on earth is this?
A mysterious, distorted carcass has been discovered on an English beach, baffling masses.
The bloated body, dubbed the "Beast of Tenby" and the "Beast from the East" by the English press, has been widely debated, according to the Western Telegraph.
The beast was discovered over the weekend by local resident Peter Bailey, 27, who came across the creature while taking a walk.
"I was taking my dog for her evening walk across the south beach when she started acting out of character by howling and running round in circles," Bailey told the Western Telegraph. "I ran up to her to see if she was ok and then I came across this hideous looking carcass. I could see it had little hair left on it's decomposing body. Immediately I thought it was a horse but it had claws like a bear and a body of a pig. Surprisingly it didn't smell."
The site posted a picture of the beast on Facebook, where it was shared hundreds of times and widely debated.
The Sun reached out to Swansea University's College of Science professor Dr. Dan Forman, who said while it was "difficult to say," the creature's five toes hinted that it might be a badger. Meanwhile, the Western Telegraph reached out to several animal experts, who suggested it could be either a badger or dog.
The debate has apparently even reached city government.
"We did get a call on Friday evening to say a Jack Russell had been washed up on Tenby's South Beach but our staff couldn't find it," Pembrokeshire council representative Len Mullins told Wales Online.
The mysterious creature reminds some of the Brooklyn Bridge "monster" discovered in July and the "Montauk Monster," which washed up on a Long Island beach in 2008. That creature appeared to have a beak, claws, and almond-shaped eyes like an alien, according to New York Magazine.
LOOK:
beast of tenby mystery creature
Also on HuffPost:
Loading Slideshow...
HIV Test Kit - Private & Confidential HIV Home Test Kit & Instant Result
Our Profile
1 Min Test Lab was established in 1999 to help cancer patients with the disease as well as provide the necessary support for their treatments; mentally and physically. We have since branched off into a niche market in supplying certified HIV Test Kit / HIV Antibody Test Kit to Hospitals and Clinics.
It is currently estimated that as many as a third of people with HIV in the UK are unaware that they are infected with the virus...

Our HIV Home Test Kit Features :-
HIV Test Kit Features

Accurate

Clinically proven to be more than 99.9% accurate. The HIV Test Kit detects for HIV Antibody.



Easy

Non-invasive, simple finger prick sample is all that is needed



Reliable

The HIV Kit is evaluated by International Health Boards
Approved by Local Authorities and used in clinics, Hospitals and Test Labs.
Pending approval at final stages in other African countries and in UAE.

EZ-TRUST Rapid HIV Home Test Kit has been thoroughly and successfully tested for its reliability accuracy and sensitivity by regional health ministries and major reputable hospitals in Singapore.
EZ-TRUST Rapid HIV Home Test Kit



Free Shipping!
$29.89 ONLY




*** Prices are Nett. No hidden charges !
[Our company name will not appear in your credit card statement. Your credit card will not be billed anything related to "HIV"]
There are dozen of HIV Test Kit in the market and which HIV Kit is reliable?
Our products comply with ISO 9001 therefore the HIV Kit are reliable and safe to use. The HIV Kit are different from any other unknown China manufactured HIV / AIDS / STD Home Test Kit that you might come across online as we are fully certified and approved by major bodies. Any manufacturing errors are unlikely therefore the HIV Kit will give you very accurate and reliable results.
The advantage of a HIV Home Test Kit is that you do not have to return to get your test result - results are readily available in about 5 minutes. HIV Test Kit are single-use and do not require laboratory facilities or highly trained staff.
The HIV Kit are not home sampling. You DO NOT need to mail back the blood sample. The results are immediate.
The Ghost of Joe McCarthy Slithers Again | On Democracy | BillMoyers.com
The Ghost of Joe McCarthy Slithers Again
April 26, 2012
We've talked at times about George Orwell's classic novel
1984
, and the amnesia that sets in when we flush events down the memory hole, leaving us at the mercy of only what we know today. Sometimes, though, the past comes back to haunt, like a ghost. It happened recently when we saw Congressman Allen West of Florida on the news.
A Republican and Tea Party favorite, he was asked at a local gathering how many of his fellow members of Congress are "card-carrying Marxists or International Socialists."
He replied
, "I believe there's about 78 to 81 members of the Democrat Party who are members of the Communist Party. It's called the
Congressional Progressive Caucus
."
By now, little of what Allen West says ever surprises. He has called President Obama "
a low level socialist agitator
," said anyone with an Obama bumper sticker on their car is "
a threat to the gene pool
" and told liberals like Harry Reid and Nancy Pelosi to "
get the hell out of the United States of America
." Apparently, he gets his talking points from Fox News, Rush Limbaugh, or the discredited right wing rocker
Ted Nugent
.
But this time, we shook our heads in disbelief: "78 to 81 Democrats… members of the Communist Party?" That's the moment the memory hole opened up and a ghost slithered into the room. The specter stood there, watching the screen, a snickering smile on its stubbled face. Sure enough, it was the ghost of Senator Joseph McCarthy, the Wisconsin farm boy who grew up to become one of the most contemptible thugs in American politics.
Back in the early 1950's, the Cold War had begun and Americans were troubled by the Soviet Union's rise as an atomic superpower. Looking for a campaign issue, McCarthy seized on fear and ignorance to announce his discovery of a conspiracy within: Communist subversives who had infiltrated the government.
In speech after speech, McCarthy would hold up a list of names of members of the Communist Party he said had burrowed their way into government agencies and colleges and universities. The number he claimed would vary from day to day and when pressed to make his list public, McCarthy would stall or claim he accidentally had thrown it away.
His failure to produce much proof to back his claims never gave him pause, as he employed lies and innuendo with swaggering bravado. McCarthy, wrote historian William Manchester, "realized that he had stumbled upon a brilliant demagogic technique… Others deplored treachery, McCarthy would speak of traitors."
And so he did, in a fearsome, reckless crusade that terrorized Washington, destroyed lives, and made a shambles of due process.
Millions of Americans lapped it up, but in the end, Joe McCarthy would be done in by the medium that he had used so effectively to spread his poison: television. In 1954, legendary broadcaster Edward R. Murrow
bravely exposed McCarthy's tactics
on the CBS program,
See It Now
.
Read More!
Climate Change | Spotlight | BillMoyers.com
Four out of five Americans say the
effects of global warming
are already evident and our nation could be in serious trouble if we don't act. President Obama even made climate change one of his
top three second-term priorities
. But are we in for more words without action? This spotlight page continuously explores enormous challenges, hard truths and innovative solutions to what's arguably the greatest single threat facing humanity.
Editors Picks
Latest Stories
January 4, 2013
Access articles, tools and resources that enlighten, inform and help you make a difference.
January 3, 2013
Learn ways to make a difference in your own community on behalf of the planet.


January 2, 2013
Anthony Leiserowitz, a climate change communication expert, tells Bill what President Obama should say about climate change during his State of the Union address.

December 28, 2012 | Smart Charts
Data from 11 of the past 12 months indicates a record-breaking 2012, but will climate coverage also warm up?

December 3, 2012 | Connecting the Dots
This year's UN Climate Summit in Doha, Qatar represents another lost opportunity for global action to reduce carbon emissions and slow global warming.
November 15, 2012
The Shock Doctrine
author Naomi Klein joins Bill to discuss hurricanes, climate change and democracy.
Citizens, Not Consumers, Are Key to Solving Climate Crisis | Q&A | BillMoyers.com
Q&A is a weekly column featuring interviews with writers, economists, social scientists, activists and other big thinkers with important perspectives on issues affecting our democracy.
Citizens, Not Consumers, Are Key to Solving Climate Crisis
January 4, 2013
Annie Leonard spent 20 years working for environmental organizations, studying where our stuff comes from and where it goes. She followed waste from industrialized countries to apartheid-era South Africa, where it was dumped in black townships, to Haiti, where it was disguised as fertilizer and dumped on a beach, to Pakistan, Indonesia and the Philippines where we sent everything from e-waste to used car batteries for recycling in a process too dirty for our own backyard.
Then, in 2007, she made a short animated film about our consumer culture and the damage it does to the environment.
The Story of Stuff
went viral (chances are you've seen it — more than 15 million people have) and spawned a whole
series
of videos that explain complicated environmental and political concepts in an irresistibly simple and engaging way. We reached Annie via email to talk about the latest installment,
The Story of Change
. This one's a bit of a departure — instead of looking at the problem, it proposes a solution.
Lauren Feeney: I've often heard that one of the reasons we as a society have been so slow to act on climate change is that it's kind of a boring subject, so it doesn't get nearly the press coverage it deserves. How do we make it interesting?
Annie Leonard:
We can communicate about climate change in a way that is abstract, technical and alienating – maybe even boring. Or we can communicate with stories, images and examples that are relevant and accessible to our daily reality. Melting ice caps and polar bears might not evoke immediate concern from today's urban communities, but increasing food prices, health impacts and extreme weather do. Environmental researchers and scientists tend to lead with the data, which is understandable considering how terrifying and compelling the climate data is. It's hard not to want to share it with everyone we pass on the street. But we're learning that data alone doesn't inspire people to act at the level needed. Heck, data alone doesn't even inspire people to do simple things, like improve our diets or exercise more. When we're communicating about climate change, it serves us to keep the data and technical jargon on
tap
, not on
top
. We need to understand the science for ourselves and for those who want to know more, but not lead with it. Lead with our hearts, our humanity, our empathy, our stories and we'll see greater results.
That said, there are other reasons that climate change doesn't get the press coverage it merits. True, these discussions do get bogged down by technical terms and data-heavy science but they also don't happen in a vacuum. Much of today's mainstream media is deeply invested in maintaining business-as-usual and an honest assessment of the current climate situation leads to the realization that fundamental shifts are essential in our economy, our transportation, our built environment, and much more. So, the silence is partly about poor communication skills and partly about vested interests and power.
Feeney: Your most recent video, The Story of Change, focuses on political activism rather than individual acts of "going green" as a way to help heal the planet. Why? How did your thinking on this evolve from The Story of Stuff to The Story of Change?
Leonard:
After we released
The Story of Stuff
film in 2007, we received over 200,000 emails. The number one question people asked was "what can I do?" Same thing in public forums – over the last five years I've traveled coast to coast and at every venue, people aren't asking if there is a problem, but are asking what they can do to help. Prior to this experience, I thought that the obstacle preventing more people from getting involved was a lack of knowledge or concern about the problems. "If only people knew and cared," I'd tell myself, "they'd get involved." My anecdotal information is backed up by numerous polls; at this point in the U.S., most people know we've got serious environmental problems and most people care. Yet, most environmentalists still focus on providing more information to the public, as though one more fact sheet or pie chart is what's needed to inspire people to take action. I believe that what's really needed is to reengage our citizen muscles.
Each of us has two different roles we play in society, almost like two muscles: a consumer muscle and a citizen muscle. Our consumer muscle is spoken to and validated constantly. We're called upon to use it every day and, as a result, we're really good at it. It's overdeveloped so much that being a consumer is our primary role in society so much that the words "consumer" and "person" are used interchangeably. At the same time, our citizen muscle has atrophied. So when we're faced with problems as gigantic as disruption of the global climate, we stick with the familiar consumer muscle. We buy green products, switch our lightbulbs, reject bottled water, carry a reusable bag to the store. Now, don't get me wrong – those are all very good things to do. But those are not about making transformative change like we need right now. To do this, we need to step out of our consumer role and into our citizen role and work together, through our democratic structures, to achieve big bold change. Perfecting our day to day eco-choices can be a step in the right direction, or it can be a distraction if we're deluded into thinking that we've done our part since we shopped at Whole Foods. That's why the subtitle of our last movie is "Why citizens, not shoppers, hold the key to a better world." We need to start exercising our citizen muscles again.
Feeney: In the piece, you say there are three things you find whenever people get together and actually change the world — a big idea, people working together, and real action. Does this exist among people concerned about climate change? Where do you see signs of it? Who's leading the movement?
Leonard:
We're starting to see all three of these things in the movements around climate change. For the first decade of work on this issue, the discourse was dominated by technical scientists and Beltway advocates. That didn't work. It neither captured the public's attention nor built the power needed to shift elected leaders. We saw firsthand that information alone does not lead to change; that information must be backed up by citizen engagement strong enough to counter entrenched interests. In the decade since, the movements around climate have exploded. All over the world, there are protests, teach-ins, lobby days, marches and works of art with a message. The conversation has busted out of the DC expert arena and is now a broad public one.
There's not one single movement or leader, which is good. There are many nodes of leadership.
350.org
is making the
science accessible
, hosting
international trainings
, encouraging students to make their
universities divest from fossil fuels
and taking direct action against the most
destructive energy projects
.
Climate Parents
is engaging parents to act on this monumental threat to our children's future.
Oil Change International
is fighting government subsidies for record profitable fossil fuel companies.
Sierra Club
members are shutting down coal plants across the country. Activists engaged in the
Climate Justice
movement are ensuring that social justice is not sacrificed in the desperate search for solutions. Thousands of local groups are fighting fracking, promoting environmental justice, engaging youth and faith-based communities. It's becoming unstoppable.
Feeney: In a recent interview with Time Magazine (for his Person of the Year award), President Obama named climate change as one of the top three priorities for his second term. What would you like to see him do?
Leonard:
Naming climate change is an excellent first start. It's finally on the table. I'd like to see Obama rapidly phase out subsidies for fossil fuels corporations and instead invest in R&D for cleaner energy. Reject the Keystone XL pipeline, an energy project so polluting that climate expert James Hansen has said developing it would mean it's "game over" for the climate. I'd like to see the U.S. stop being such an embarrassing obstructionist and bully at international climate negotiations, where we routinely act as a brake on solutions commensurate with the scale of the problem. Provide leadership and incentives for businesses to innovate real solutions. Support the EPA in capping carbon from utilities and other polluters. Begin transitioning to a lower carbon economy: more public transportation, more local manufacturing, more public resources like libraries and parks to reduce our individual consumption levels. Incorporate environmental measures into our national metric for how we're doing; measuring and celebrating economic growth alone is like celebrating our way right off a cliff.
Feeney: As you say in the piece, "There's no 10 simple things we can do without leaving our couches." But what specifically do you say to people who ask what they can do?
Leonard:
There are plenty of things we can do on an individual scale, and we should do those. Ride a bike, eat local food, recycle your waste (incinerators and landfills contribute to climate change), turn your heat down, share stuff rather than own everything you ever need. Those are good to do because they bring into alignment our values and our actions. They demonstrate our concern to our community. They send market signals up supply chains. But these kind of individual actions don't have the potential to reduce carbon and promote alternatives anywhere near the level needed.
The real change making potential is by joining with others to demand change from leaders in government and businesses. The most important thing to do (and also the most rewarding) is connecting up with others who care. It can be neighbors, fellow church-goers, student peers or professional organizations like 350.org. Reach out, connect, join a campaign. Plug in where you're most interested, whether it is lobbying locally for greater public transit or protesting dirty coal plants. One of the great things about a problem as pervasive as this is that there are so many ways to get involved – there is something for everyone!
Climate Change | Spotlight | BillMoyers.com
Four out of five Americans say the
effects of global warming
are already evident and our nation could be in serious trouble if we don't act. President Obama even made climate change one of his
top three second-term priorities
. But are we in for more words without action? This spotlight page continuously explores enormous challenges, hard truths and innovative solutions to what's arguably the greatest single threat facing humanity.
Editors Picks
Latest Stories
February 21, 2013 | Money & Politics
Mother Jones and The Guardian report that a little-known group has funneled hundreds of millions of dollars from wealthy contributors to a host of right-wing organizations, advocacy groups and think tanks.
February 14, 2013 | News & Notes
Our cameras were there when 48 protesters, including the Sierra Club's Michael Brune, were arrested outside the White House.

January 18, 2013 | What Matters Today
Discover and share "what we're reading" today.

January 15, 2013 | BillBoard
Our daily roundup of recommended reads: today's articles include reports on the NRA's aversion to disclosure, the terrifying effects of climate change and the psychology of debt.
January 10, 2013 | Connecting the Dots
If an asteroid were headed for Earth, we'd all band together and figure out how to stop it, just like in the movies, right?
January 8, 2013 | News & Notes
The NOAA has confirmed what many already predicted: 2012 was the warmest year ever for the contiguous U.S.
Joe Lieberman stories at Techdirt.
from the bet-that'll-stop-terror dept
Senator Joe Lieberman may finally be out of the Senate, but his "legacy" lives on. Over the years, we've noted that he's regularly sought to censor technology that terrorists use, on the ridiculous theory that censorship somehow makes the terrorists disappear. One of his campaigns, way back in 2008, was to
force YouTube
to magically censor videos from terrorists. After putting a lot of public pressure on YouTube, the company caved. And... as a result of that, it recently
shut down the video channel of an important Syrian watchdog organization
which had been posting video evidence of atrocities occurring in that country. YouTube has apologized and reinstated the channel, but this is what happens when you encourage censorship. It is impossible not to have it lead to censoring important speech.
YouTube sent the Observatory an email on Sunday that said its channels "syrianhro" and "almrsd" had "violated the policy of the site by publishing shocking and offensive videos," the Britain-based watchdog said.

The Observatory, which disseminates graphic videos on YouTube of atrocities from the bloody civil war the UN says has killed more than 60,000 people, condemned the closure.

"This is the second time in two months that the site administration has closed the Syrian Observatory for Human Rights channel," it said in a statement, in reference specifically to almrsd.
Of course, if we're to take Lieberman's theory to its logical conclusion, so long as no one can see the atrocities in Syria, we can all pretend they haven't happened, right?
Senators Attack Government's Use of Patriot Act | Common Dreams
Published on Friday, March 16, 2012 by Common Dreams
Senators Attack Government's Use of Patriot Act
Sens. Wyden, Udall: Americans would be 'Stunned' at Justice Department's Surveillance Powers
- Common Dreams staff
Two members of the Senate Intelligence Committee have expressed concerns that the US Justice Department is abusing provisions in the Patriot Act.
In a
letter
to Attorney General Eric Holder, Sens. Ron Wyden (D-Oregon) and Mark Udall (D-Colorado) warned that the government is secretly interpreting sweeping surveillance powers in section 215 of the Patriot Act. They also warned that this "top secret intelligence operation" as
the New York Times
reported, is "not as crucial to national security as executive branch officials have maintained." The senators said Americans would be "stunned" to learn of the nature of this intelligence program.
The dispute is over the government's ability to obtain a secret foreign order under the Foreign Intelligence Surveillance Court to obtain business records and other items relevant to terrorism or espionage. The specifics of the program are classified.
The letter also expressed discontent over the Obama Administrations failure to establish a "regular process for reviewing, redacting and releasing significant opinions" about the Patriot Act. The senators complained that "not a single opinion has been redacted."
* * *
Democratic Senators Issue Strong Warning About Use of the The Patriot Act,
The New York Times:
For more than two years, a handful of Democrats on the Senate intelligence committee have warned that the government is secretly interpreting its surveillance powers under the Patriot Act in a way that would be alarming if the public — or even others in Congress — knew about it.
On Thursday, two of those senators — Ron Wyden of Oregon and Mark Udall of Colorado — went further. They said a top-secret intelligence operation that is based on that secret legal theory is not as crucial to national security as executive branch officials have maintained.
The senators, who also said that Americans would be "stunned" to know what the government thought the Patriot Act allowed it to do, made their remarks in a letter to Attorney General Eric H. Holder Jr. after a Justice Department official last month told a judge that disclosing anything about the program "could be expected to cause exceptionally grave damage to the national security of the United States."
The Justice Department has argued that disclosing information about its interpretation of the Patriot Act could alert adversaries to how the government collects certain intelligence. It is seeking the dismissal of two Freedom of Information Act lawsuits — by The New York Times and by the American Civil Liberties Union — related to how the Patriot Act has been interpreted.
The senators wrote that it was appropriate to keep specific operations secret. But, they said, the government in a democracy must act within publicly understood law so that voters "can ratify or reject decisions made on their behalf" — even if that "obligation to be transparent with the public" creates other challenges.
"We would also note that in recent months we have grown increasingly skeptical about the actual value of the 'intelligence collection operation,' " they added. "This has come as a surprise to us, as we were initially inclined to take the executive branch's assertions about the importance of this 'operation' at face value."
The dispute centers on what the government thinks it is allowed to do under Section 215 of the Patriot Act, under which agents may obtain a secret order from the Foreign Intelligence Surveillance Court allowing them to get access to any "tangible things" — like business records — that are deemed "relevant" to a terrorism or espionage investigation.

* * *
Senators Demand DOJ Release Secret Spy Court Ruling
, Wired.
Two Democratic senators urged the Obama administration Thursday to declassify secret court rulings that give the government far wider domestic spying powers under the Patriot Act than intended.
The 10-year-old measure, hastily adopted in the wake of the 2001 terror attacks, grants the government broad surveillance powers with little oversight that can be used domestically.
While much has been written and debated about the bill's powers and efficacy, there's evidently much more going on than the public knows.
A secret tribunal known as the Foreign Intelligence Surveillance Act Court has issued classified rulings about the Patriot Act that U.S. Senator Ron Wyden (D-Oregon) and Sen. Mark Udall (D-Colorado) say expand the government's surveillance powers even more.
At issue, the lawmakers said, is section 215 of the Patriot Act. The sweeping power, one of the most controversial in the law, allows the secret FISA court to authorize broad warrants for most any type of record, including those held by banks, internet companies, libraries and doctors. The government does not have to show a connection between the items sought under a section 215 warrant and a suspected terrorist or spy: the authorities must assert the documents would be relevant to an investigation. Those who receive such an order are not allowed to tell anyone, ever, that such records were requested.
The senators, in a letter to Attorney General Eric Holder, wrote:
"We believe most Americans would be stunned to learn the details of how these secret court opinions have interpreted section 215 of the Patriot Act. As we see it, there is now a significant gap between what most Americans think the law allows and what the government secretly claims the law allows. This is a problem, because it is impossible to have an informed public debate about what the law should say when the public doesn't know what its government thinks the law says."

Hope Ayurvedic Treatments
HIV/AIDS Treatment
Our ayurvedic AIDS treatment has helped our patients in speedy recovery.
Diabetic Wounds Treatement
We are engaged in offering ayurvedic diabetic wound therapy and treatment.
Cancer Treatment
We offer ayurvedic cancer treatment, cancer therapy, blood cancer treatment and therapy.
Diet For Chronic Hepatitis C Patients | LIVESTRONG.COM
Diet for Chronic Hepatitis C Patients
Jul 9, 2011 | By Jill Corleone
Hepatitis C is a type of liver disease. The hepatitis C virus causes the liver to become inflamed, causing pain and a decrease in liver function. Some individuals can clear the virus that causes hepatitis C within a few months. However, most people cannot. If left untreated, hepatitis C leads to scarring of the liver and cirrhosis. Following a healthy diet specifically designed for chronic hepatitis C can help you manage the disease and preserve liver function.
Healthy Carbohydrates
When you have chronic hepatitis C, most of your calories should come from healthy carbohydrates, including whole grains, fruits, vegetables and legumes. That means about 45 to 65 percent of your daily calorie intake, as recommended by the U.S. Department of Agriculture.These healthy carbs are high in essential nutrients your body needs to stay well, including antioxidants, fiber, vitamins and minerals. In addition, you should also limit your intake of carbohydrates from sweets and desserts. These types of food provide only fat and calories, and offer very little nutritional value.
Adequate Protein
It is important to get in adequate amounts of protein when you have chronic hepatitis. Liver disease increases the breakdown of protein, depleting stores quickly. Adequate intakes of protein prevents depletion, which supports immune health and preserves lean body mass. You should aim for 0.8 to 1.0 g of protein per kilogram of body weight, or 55 to 68 g of protein a day if you weigh 150 lbs. Include a source of protein at each meal to help make sure you meet your needs. Good sources of protein include meat, poultry, fish, eggs, nuts, seeds, tofu, legumes and dairy products.
Moderate Fat
As long as you are not showing symptoms of malabsorption, you do not need to severely restrict your intake of fat. In fact, a moderate fat diet, about 35 percent of calories, is recommended for chronic liver disease. The only reason fat is limited at all is to help you maintain a healthy body weight. For good health, most of your fat should come from healthy sources such as vegetable oils, nuts, seeds and fatty fish such as salmon or tuna.